Coin Collecting
---
Coin collecting, or numismatics, has been popular for as long as coins have existed. Once known as the 'hobby of kings', it is now far more accessible to the wider public, with millions of people worldwide devoting their time and money to expanding their collections of rare, famous, and beautiful coins. Coin collecting can be a fun, fascinating hobby; one with many facets to explore, and requires only the time and expense you wish to give it.

As the UK's No.1 online bullion dealer*, many of BullionByPost's customers are interested in buying gold, silver, and platinum coins as shields against inflation and economic instability. However, some of the coins that we sell also attract customers of a slightly different nature.
Coin collecting within bullion coins is very common, while there is also a large crossover with purely numismatic coins.
A numismatic coin differs from a bullion coin because its value is not based purely on its metal content, but on four key factors:
Condition (Is it worn or scratched?)

Grade (Quality of finish)

Scarcity (Limited mintage)

Demand (Is this year or design particularly sought after?)
While a bullion coin will typically trade at a very low premium above its precious metal content, numismatic coins will usually sell for significantly more. Bullion coins can also possess certain numismatic characteristics and are sometimes valued according to their grade and scarcity, as well as their precious metal content. These are known as 'semi-numismatic' coins and are of great interest to coin collectors. As such they will usually come at a premium above their material bullion value, but at a slightly lower rate than a specific collectable.
Coin collecting can take the form of circulating currency coins, commemorative special releases, or precious metal coins such as those sold by ourselves. Even within these areas there are further specialisations to be considered, and below is a list of some of the things a coin collector can consider.


---
Coin collectors US
Coin collectors in the US have a huge variety of options available to them. The country has a wide range of coins minted across it's history, even relative to countries with an older history like the UK. The US has official bullion and currency coins from the US mint as well as a wide range of popular collectable releases from private mints.
Coin collecting by theme
In order to give some sort of direction to their hobby, coin collectors will often adopt a thematic approach, looking to obtain coins that all have a certain common feature. Examples of these themes include collecting proof coins, coins of a certain metal, or from a certain region, the theme can be unique to the individual ensuring a collection unlike any other.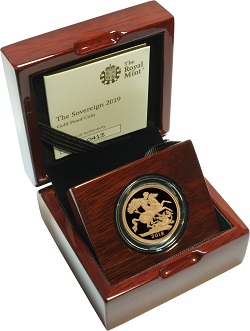 Proof coin sets

Proof coins tend to be expensive even before their appeal to collectors is taken into account.
Greater measures are taken in the production of proof coins to enhance their appearance,
meaning they will usually cost significantly more than their precious metal value.
Click here to learn more about Proof Coins.
A great example of this is the Sovereign Five-Coin Proof Set. Each year, The Royal Mint releases
a set of coins consisting of proof versions of five different sizes of Sovereign - Quarter Sovereign,
Half Sovereign, Sovereign (£1 coin), Double Sovereign (£2 coin) and Quintuple Sovereign (£5 coin).
Regardless of the current spot price, the proof set would most likely trade for at least £1,000 more
than the premium on a similar bullion quantity.
Click here to view our range of Proof Sovereigns.
Special edition proof coin collections will often be released by The Royal Mint in order to celebrate
specific events, anniversaries, or individuals of merit. UK coin collectors are often particularly keen
to get proof versions of the coins they are interested in, ensuring the highest possible quality and value.


---
Coinage metals

Some individuals might be attracted to coins made from a particular metal, or even a particular bimetal combination. At BullionByPost we don't sell bimetal coins, however we do have a wide range of gold, silver, and platinum coins. The metal used in the coin has obvious implications on its value and appearance and it is therefore very common for coin collectors to stick to one particular metal.


---
World coins
One of the most popular themes for numismatic collections is coins from around the world. Collectors may try to obtain as many coins from one country as possible, one that holds special significance to them. Or perhaps they collect coins from as many different countries around the globe creating their own map of coinage.
See our wide range of collectible World Coins.

Some coins, like older gold Sovereigns, will have mint marks on them to signify which refinery produced the coins. The Royal Mint previously operated at a range of mints across the then British Empire, with sites in Sydney, Melbourne, Perth, Ottawa, Bombay, and Pretoria.
Click here to learn more about Sovereign Mint Marks.
Many UK coin collectors focus purely on the Sovereign. It is a coin of particular significance to Britain's history, and has now been minted for over 200 years. Collecting gold Sovereigns is therefore a significant task in its own right. US coin collectors may prefer to target the Eagle as America's official bullion coin.


---
Coin series

Series collections are typically focussed on just one coin. A popular example of this is Sovereign collecting,
where Sovereign enthusiasts aim to collect one from each year and each mint branch in which the coin was
made.
The Royal Mint offers a variety of alternative collections, including the Queen's Beast series and the new
Myths & Legends series. Australia's Perth Mint also offers a Lunar collection, whilst a lot of their series have annual designs.


---
Historical coins
Historical importance is a strong driver of interest in collecting coins, with many collectors keen to own a small piece of history. To help out numismatists, customers can browse in our coin collection for older hammered coins or the slightly later milled coins, as well as choosing between a range of British monarchs - all listed in specific categories with a detailed history of their importance or achievements of note.