Sovereign Coin Designs
---
The gold Sovereign is one of the oldest British coins still in production by The Royal Mint. First struck in 1817 following the Great Recoinage of 1816, Sovereign coins were used in common circulation £1 coin, but are now only available in bullion or proof forms, depending on your interest as an investor, collector, or simply somebody looking for a gift.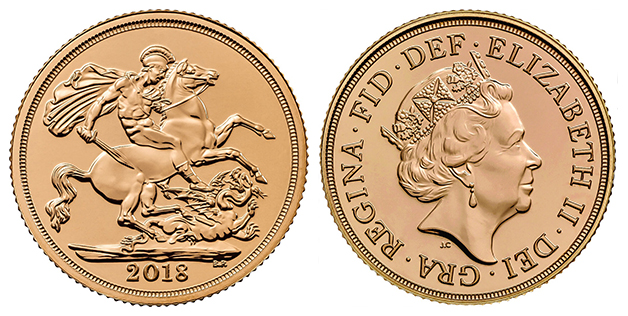 The gold Sovereign coins of today are the successors of the old English gold sovereigns, first introduced under King Henry VII in 1489. Later adaptations of the coin included the Crown Gold, Unites, Laurels, Broads, and eventually Guineas.
Traditionally the Sovereign features the present monarch on the obverse (front) of the coin, and St George slaying a dragon on the reverse. This design is used on the vast majority of Sovereigns over it's more than 200 year history, but certain special years have received unique designs.


Sovereign specifications:
Gold Sovereign coins weigh 7.98 grams, of which 7.3224 grams is fine gold. This puts the Sovereign at 22 karat purity, which is the gold purity The Royal Mint has always produced these coins at. The remaining metals are primarily copper in modern Sovereigns, to help with the coin's strength and resilience to damage, but other metals like silver have been used in the past.
The current design of Sovereign is produced at 22.05mm in diameter and with a 1.52mm thickness, but these can fractionally vary depending on the age and condition of the Sovereign.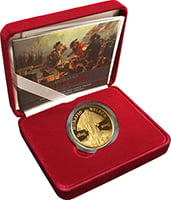 Sovereign size variations:
There are several types of gold Sovereign based upon their size, including the quarter, half, double, and quintuple sizes.
The smaller sizes are available in bullion and proof finishes, while the larger are proof-only editions, such as this
2005 proof Horatio Nelson quintuple Sovereign. Learn more about Sovereign coin specifications.
Sovereign reverse designs:
Italian sculptor and artist Benedetto Pistrucci came to London in 1816 to show off his artistic talents. He caught the eye of
Lady Spencer, who commissioned him to reproduce a wax model of Saint George and the Dragon (as made by Nathaniel
Marchant) but in Greek style, with Knight of the Garter regalia.
Upon completion he was commissioned once again, this time by the Master of the Mint, to produce models for the new
British coinage. Pistrucci completed the design and even engraved the dies himself due to the Mint's engravers not being
able to accurately replicate his work.