What is the Face Value of a Sovereign?
---
Gold Sovereign coins have a face value of £1, this means it's legal tender value is technically £1. The true value of a Sovereign however is calculated by multiplying its gold content - 7.3224 grams - by the gold spot price.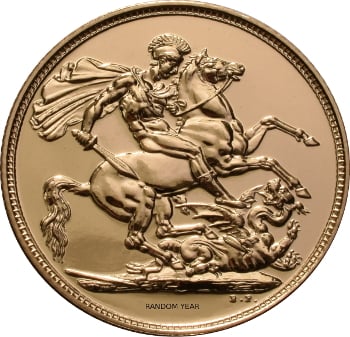 The British gold Sovereign is one of, if not the most famous, bullion coin in the world and was first introduced as long ago as 1489, under King Henry VII. It's most famous - and current - iteration however began in 1817 following the Great Recoinage. The classic design, and face value of the Sovereign was set and has continued on to this day over 200 years later.
As mentioned above, the Sovereign has a face value of £1, but this was based on previous currency values. Inflation and monetary policy changes over time have kept its technical value at this level, but an uncirculated bullion coin a Sovereign's real value is based on its pure gold content, which is worth considerably more than £1.
Since Britain abandoned the Gold Standard in 1931, the real value of the Sovereign has changed drastically, as the adoption of unbacked fiat currencies has completely altered the value of money.
At the time of writing this article, the real value of a full gold Sovereign is around £300. This is calculated by multiplying its pure gold content (7.3224g) by the gold spot price.
As the gold price increases, so does the true value of your gold Sovereign. Click here to view the current gold price per gram.
Of course, the fact that Sovereigns are considered to be semi-numismatic coins (a point of interest for coin collectors) means that certain specific-year Sovereigns will be worth even more than their bullion value. The demand for these Sovereigns is boosted significantly by certain factors such as their rarity, the year or mint branch in which they were produced, or the specific design that the Sovereigns carry.
While this is particularly interesting for collectors of certain Sovereigns, it must be noted that this does not necessarily make them intrinsically more valuable, as a bullion dealer will always value a bullion coin by its pure metal content.
The Sovereign has a face value of £1, but there are also variations of this popular coin. Different sizes also receive different face values as a result, so below is the full list of face values for the Sovereign coins.
| | | |
| --- | --- | --- |
| Coin | Nominal Face Value | Weight (of which pure gold) (g) |
| | £5 | 39.94 (36.613) |
| | £2 | 15.98 (14.63) |
| | £1 | 7.98 (7.3224) |
| | 50p | 3.98 (3.6575) |
| | 25p | 1.99 (1.82875) |