Global stock markets are trading at monthly lows this week as resurging Covid-19 infections force more governments to introduce strict lockdowns.
European markets in particular are suffering heavy losses, with major countries like Germany, France and Italy introducing strict measures in the face of ever-increasing infections.
Germany's DAX index is at its lowest level since May, with more losses expected to follow a decision by Chancellor Angela Merkel later today regarding a proposed 'lockdown light' for the country. Germany's economy has weathered the global pandemic better than others thanks to industrial exports, but new restrictions could see some factories forced to reduce production, while orders from other countries will undoubtedly fall as consumer spending drops.
France has seen significant numbers of daily cases (over 50,000 announced on Sunday alone), and is also considering a four-week lockdown, with an announcement expected tonight. The CAC 40 is also suffering from the sell-off and is down to a five-month low so far today.
Much of Europe is now in some form of lockdown, with strict curfews and regulations in place for many. This has raised fears that following a small summer recovery, Q4 could see the Eurozone head back into contraction territory, and a potential double-dip recession to start 2021.
.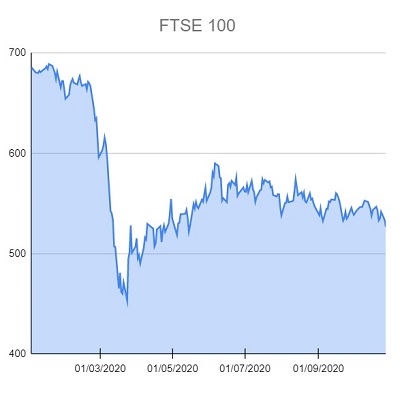 The FTSE 100 has recovered somewhat since crashing in March, but is falling once more as cases rise in the UK.
In the UK, the FTSE 100 is also trading at its lowest since April, when the country was in the midst of its last national lockdown. With much of the UK now in Tier 2 or 3, and numbers still rising, there is growing pressure on the government to formalise a national lockdown for the UK as well, following Wales and Northern Ireland.
The US has so far avoided many of the harsh restrictions in place in Europe but has also continued to suffer from some of the highest infection rates globally. News last night that a much-needed stimulus package will not be agreed ahead of next week's presidential elections has also weighed US stock markets, with the Dow Jones falling 1.8% on open today.
Gold and silver prices have dipped today following a strengthening in the Dollar. With just under 500,000 cases reported in just a week, and a contentious, divisive election in a few days, this confidence in the Dollar may not last long, and there could be more price movement to come in the next six days.