Gold and silver have enjoyed a very strong week so far, pushing the metals up to a three-week and three-month high respectively in USD. Following a difficult summer, all precious metals saw a quick rebound in price this week.
The dollar index, one of the key measures of the currency's strength, fell from a peak of 114 in September to 110 this week. The weakness is attributed to uncertainty over how much further the Fed can go with their interest rate hikes before the US economy runs out of steam. Following several aggressive hikes, the US rate range now sits at 3% - 3.25%.
This puts the US ahead of other central banks in the UK and EU, and so far, the US economy has largely withstood the rises. How long this will last though is up for debate, and all eyes are on US jobs data to be released this Friday. If the job market continues to look strong it could give the Fed the confidence to continue hiking rates, signs of a slowdown could see them go for smaller hikes, or holding at current levels.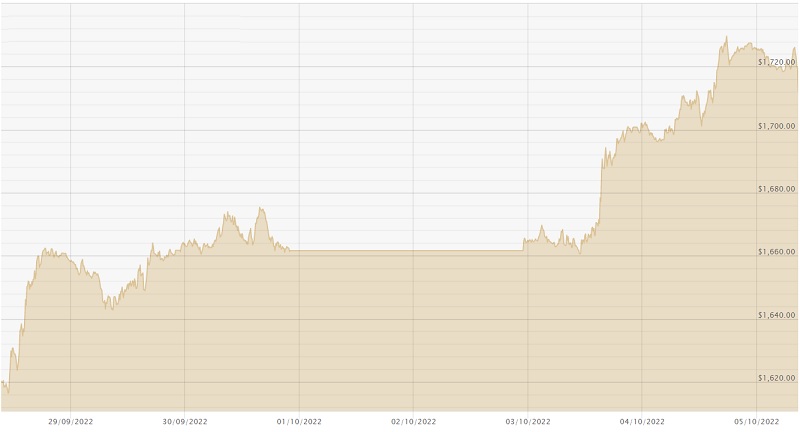 As seen above, gold in USD has enjoyed a strong week. After hitting a low of $1,615.35 per ounce last Wednesday it has hit a high of $1,729.70 yesterday, a rise of 7%. In the UK the gains have been muted by a rebound in Sterling. After hitting a record low on the back of the government's ill-fated 'mini budget', a series of U-turns, placations, and the intervention of the Bank of England have for now stabilised GBP back to $1.14. This has kept gold at the £1,500 per ounce level.
Silver has done even better however, hitting a three-month high of $21.27 yesterday, and a rise of 15% for the week. This represents a good turn-around for the alternative metal after a very weak summer. The pound's strength has once again reduced the gains in the UK, but still leaves silver up more than 7% for the week and back above £18 per ounce.
Whether the rally continues or perhaps reverses will likely depend on the dollar in the coming weeks; higher interest rates at the Fed's November meeting will likely mean a stronger dollar. If however we begin to see a slowdown, or signs of recession for the US, then there could be further gains for precious metals.